My Childhood and School Life - "Sei je amar nana rang er dinguli..."
I was born in Rangpur and grew up in Chittagong, Munshiganj, Narayanganj and Dhaka, as my father is a government service holder and he often goes through official transfer.
I first went to school in Chittagong. It was Morning Star Kindergarten - where my mother was also an instructor.
I've included below some pictures containing pieces of my everlasting childhood memories.
Debate: Representative of Mirzapur Cadet College
At Bangladesh Television Baroary Debate, 1996, BTV Auditorium, Dhaka.
Hirok Rajar Deshe (The King of Hirok)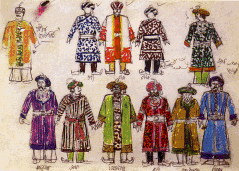 by Satyajit Ray
Want to learn more about Satyajit? Click
here
.